Contact us
TEL拢潞+86 015013124686 015913117638
Add拢潞Big stone Town Panyu Zone Guangzhou City China
E-MAIL拢潞znaisheng@163.com
cairezhi@163.com
TATTOO Kit YLT-80
Date:2013-04-03 15:57:12 Clicks:



【Number】:YLT-80
【Size】:23*16*15cm
【Material】:10pcs/box
【Weight】:2.5kg
【Description】: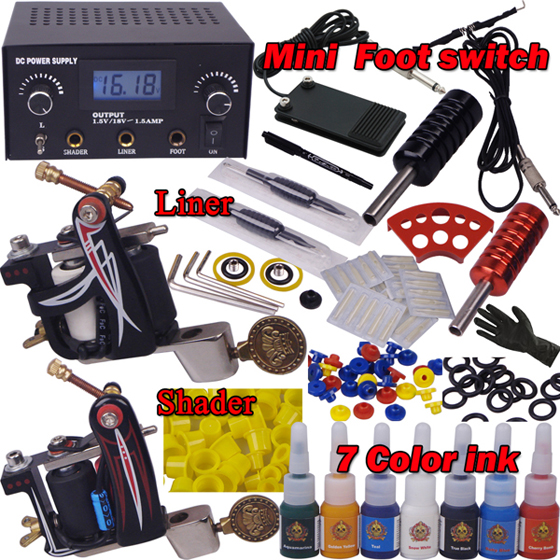 1/2 pcs professional tattoo machines for lining and shading .
2/2 pcs Aluminum Alloy Ribbed Grip .
3/1 great quality power supply.(work under 110/240V,output15V DC max) we will send the power cord & plug fitted buyers country .1 Foot switch,1 Clip cord.
4/1 pc Dual-tip black marking pen.
5/2 Pair of black latex gloves.
6/5 pcs Twin-blade disposable razor.
7/1 set of adjust tools and other attachments .
8/50x Rubber nipple grommets.
9/50x Rubber O-rings.
10/50x rubber bands.
11/7 bottle of tattoo inks(5ml/bottle): Colors include : Golden Yellow / Aquamarina / Snow White / Cherry Bomb / Teal / Baby Blue / True Black.
12/2 pcs Disposable silica-gel grip, tubes with needles.(19mm)
13/50 pre made sterile tattoo needles.(3,5,7,9RL)x5,(5,7,9RS)x5,(5,7,9Magnums)x5.
14/30 disposable tips(3R 5R 7R 5F 7F 9F) x5.
15/1 pc ink cup Holder.
16/50x Small ink cups.
17/50x middle ink cups.

Related Products: